When the paint was finished, the car was delivered back to Precision Street Roads, where the Willys was reassembled and the final detailing was done. The shop had to reassemble the body and fenders carefully to avoid chipping the paint. After the body and chassis were once again a single unit, the wiring was done, and that included the complicated loom for the computer-controlled Hilborn unit. The shop also fabricated and installed all of the polished stainless fuel lines and brake lines.

When the wiring was finished and the fuel lines and radiator hoses were hooked up, the car was fired up with assistance from Railsback. Using a laptop computer hooked to the Federal Mogul computer, Railsback made adjustments to the timing and fuel settings when the engine was running and dialed the engine in at speed and at idle.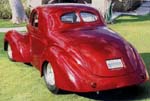 The excitement was starting to build after the engine was fired; however, the interior still had to be finished. Victor Zuniga, in Northridge, California, was responsible for the awesome light tan leather interior. The nice-looking front seats are from an '86 Fiero. Interior features include a Mullins steering column, column drop and steering wheel. Modified Lokar pedals were used along with their custom throttle linkage.